Redwood aims to take care of all the children's needs so that all they have to do is go home and sleep. As important as it is to feed the mind, feeding the body is as much a necessity. With high quality ingredients, locally sourced and organic, Redwood provides healthy wholesome meals rooted in local cuisine.
The four meals are breakfast, snack, lunch and late snack. All the food is cooked in school and freshly served to children. Meals here are a community activity, where children and adults share the table for a healthy feast.
The food has no sugar, less than 5 grams of salt and uses only palm and coconut sugar. In case of specific allergies, the food is altered according to the child. The menu, which changes every week, is diligently emailed to parents.
Sample Menu: (1 day)
Breakfast- Iddyapam with sodhi
Snack 1- Mixed veg soup + fruits
Lunch- Veg Pulao, green peas masala, roti, dal, curd Snack- Makhana + fresh fruit juice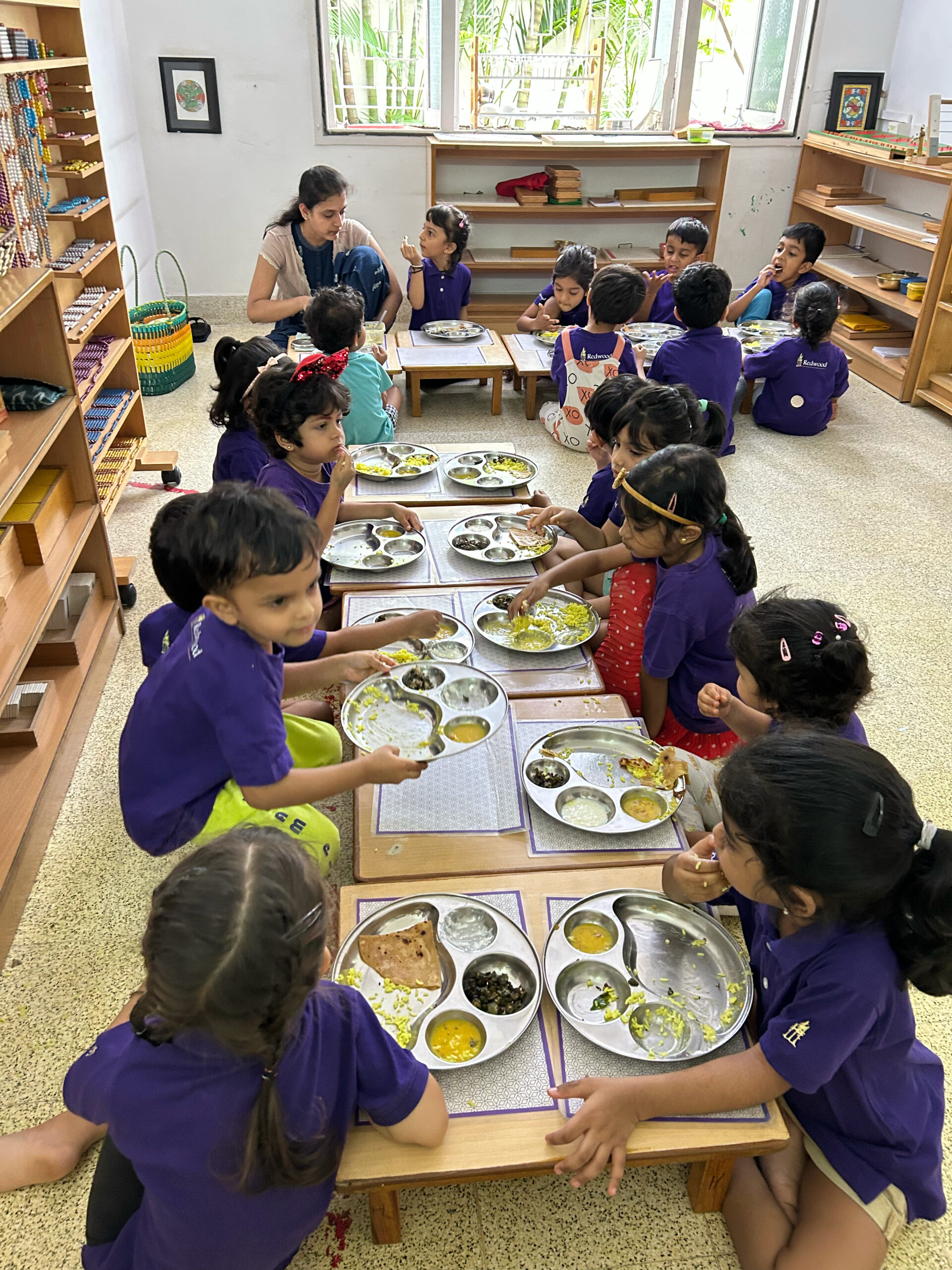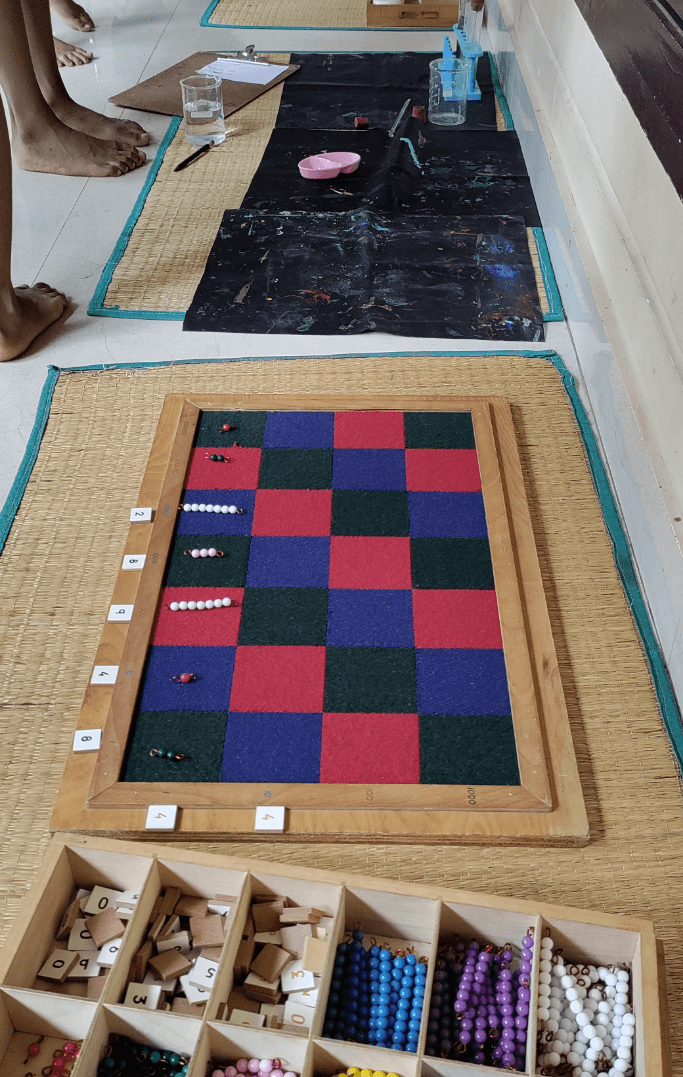 Our Integrated Curriculum
A day in the life of a child at Redwood is all about movement and striking the right balance. A sandpit for experimenting, walking, running, reading, painting and singing are all part of the day, stimulating the child the right way. From gardening to composting, the children are not afraid to work with their hands and get them dirty. They sweep the mess too.
16 month olds are shown through a developed process how to move from diaper to toilet, from being fed to eating by themselves and also putting on clothes. Adults start by speaking to children in one language and by the time they are 2.5 years they pick up all 3 languages – namely Tamil, Hindi and English. By the time they reach Elementary, they can read and write.
Art is an integral part of the curriculum which promotes fine motor skills. From block printing, painting to food prep, all activities are done with passion to learn. Focusing on the cultural aspect, many special days are celebrated in school.
The use of devices is introduced from the age of 7 years and above. For children above 4, football and initial exercises for strengthening are introduced. The boys and girls are also encouraged to play a team sport. There is an annual football tournament held too.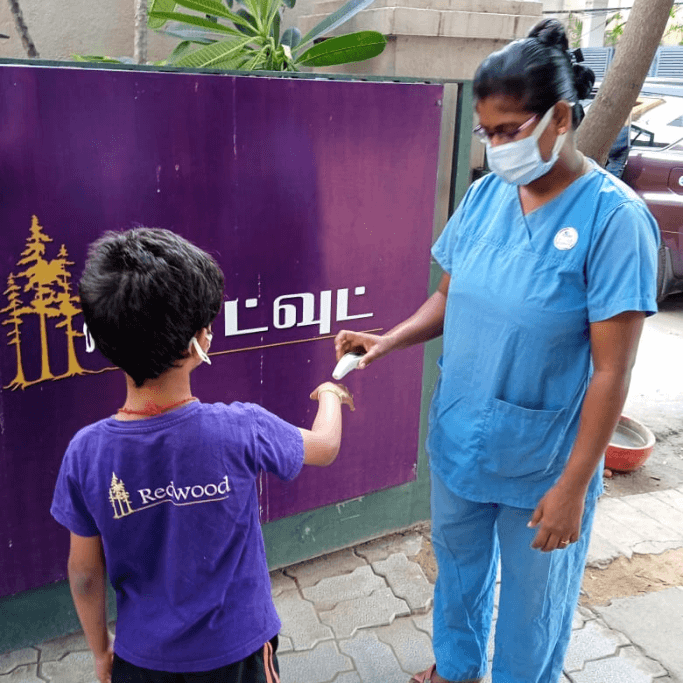 Redwood was the first school that Apollo partnered with for their Shine program. The program ensures a well equipped room of Apollo standard is set up inside the campus for any emergency. There is a nurse on each campus.
The nurses send a daily update on all children visits and all necessary precautions are taken for everyone in school to create the safest environment. Health and hygiene workshops are conducted for teachers, parents and akkas to maintain high health standards.
Starting with one, Redwood now has four active book clubs. To build a culture of reading from the beginning there are frequent read aloud sessions which helps children in listening, being creative and extending their vocabulary.
What is unique about the Redwood book clubs is that they are not based on levels or age but the interest of the child and what type of book each child would enjoy. The children are introduced to a diverse range of books and are constantly encouraged to think outside the box.Thus the children read, formulate opinions, and discuss stories from a wide array of genres.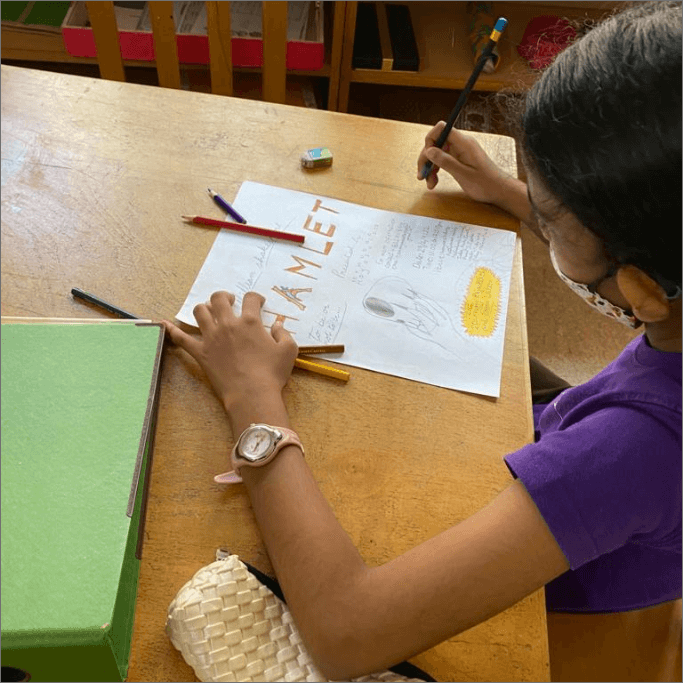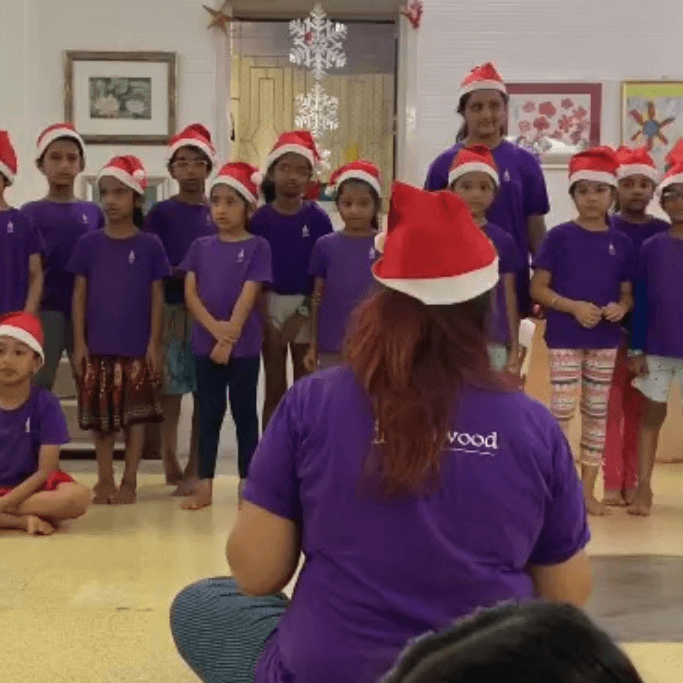 An integral group activity, the Redwood Choir focuses on singing in a group, focusing on Dynamics, Harmonies, Rhythms and more.

The Choir works on helping children to understand singing in a group, collaborate actively and help each other in being familiar with the concept of Dynamics, Tempo, Harmonies and Rhythm through Global Folk Music, Classic Pop, Western Classical Music and Show Tunes.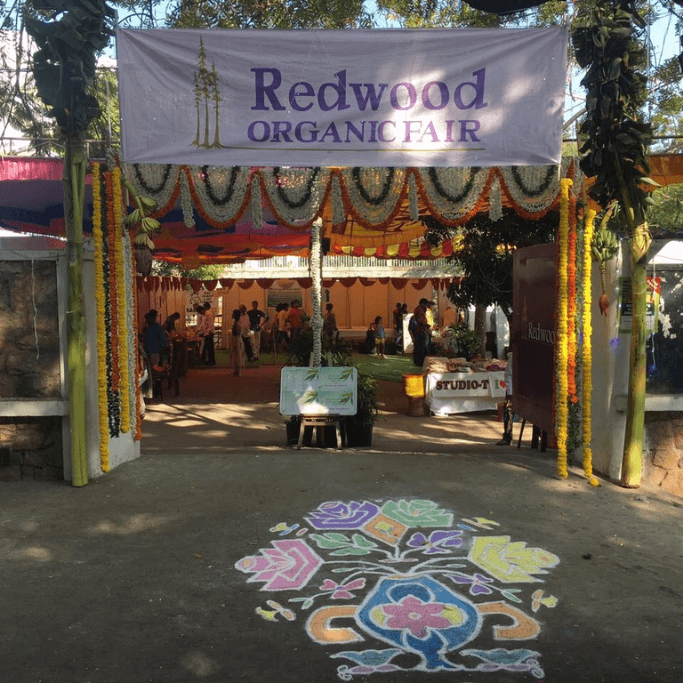 The Redwood Foundation Organic Fair, is a collision of organic and natural products which promotes a culture of mindful choices and clean eating for daily living. What started with the aim of moving children away from unhealthy and processed foods has now expanded to encompass chemical free products for cleaning homes, reducing each one's carbon footprint. To eat local and buy from local suppliers has also been extremely important to the ethos of Redwood and this is evident from the fair.
The organic fair can be considered one of Chennai's first and quality driven organic fairs and has successfully seen 8 renditions till COVID struck.
We are looking forward to having our next edition soon.
The Redwood Year End Programme – 2021-2022
The Redwood Year End Programme at the Elementary campus featured The Redwood Choir performing the Recorder, own compositions and Acapellas , along with a skit in Hindi, Tamil and a very interactive Shakespearean drama by the Book Club.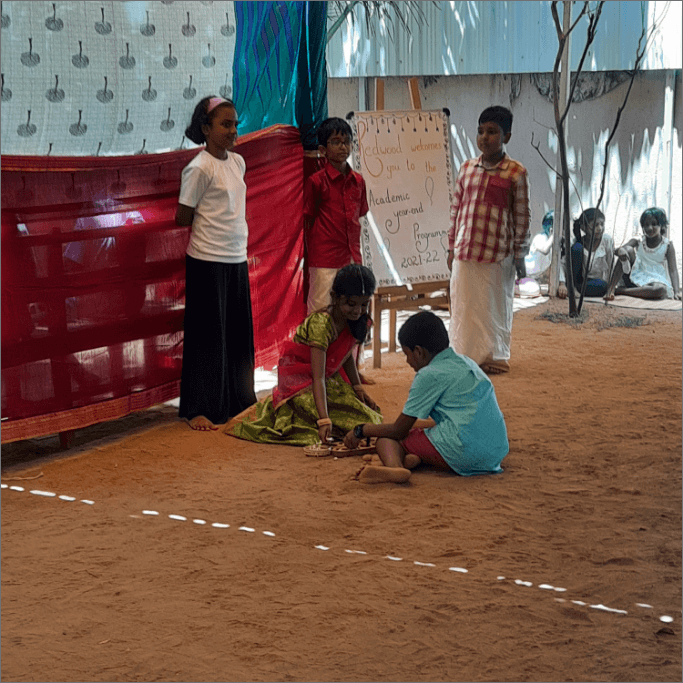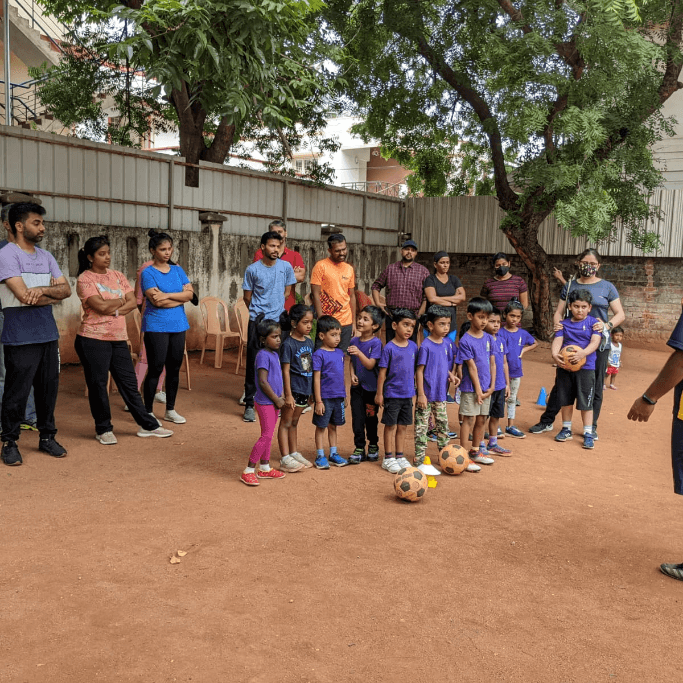 The Great Goals Family Day
The Great Goals Family Day is an event which takes place every term at Redwood, organised by Great Goals. An exciting day where children and their parents experience the joy of sporting together as a team and against one another, the Family Day sees a lot of team work, camaraderie and great sports!
The organic fair can be considered one of Chennai's first and quality driven organic fairs and has successfully seen 8 renditions till COVID struck.
We are looking forward to having our next edition soon.
Looking to be a part of the Redwood Community?